Dorms
We have 3 large dormitories with 18 or 19 beds each. The dorms are spacious and bright.
Some of our beds are arranged in compartments. There are separate compartments of 3 and 5 people and whenever possible each group gets his own corner.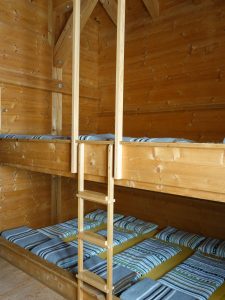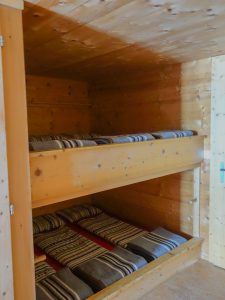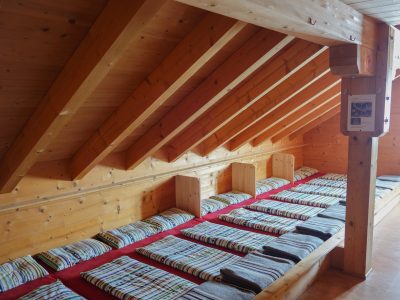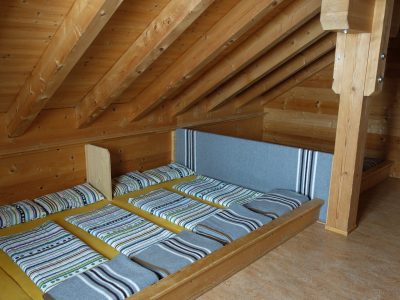 Double rooms
Die Jenatschhütte bietet 2 Doppelzimmer. Die Zimmer sind einzigartig und haben alle ihren persönlichen Charme.
In the double rooms we provide towels and in the evening we offer hot cherry stone pillows for warm feet. A silk inliner is not mandatory but recommended as it is not always possible to wash the bed linen after every guest, especially in winter...
The double rooms can be booked for an additional charge of 30 CHF per person (see Prices).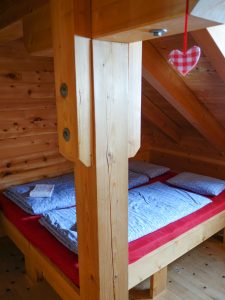 Arvenzimmer
Swiss stone pine room, helps for a relaxed sleep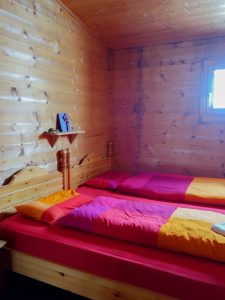 Dschimels
"Twin" room
Small but cozy
4-Bett Zimmer / Familienzimmer "Muntanella"
Ab dem Sommer 2021 gibt es neu ein 4-Bettzimmer / Familienzimmer.
Schlafen wie die Murmeltiere im Muntanella Zimmer 🙂
Die Plätze im 4-Bett Zimmer könnt Ihr für eine Aufpreis von 15 CHF pro Person buchen (siehe Prices).