Chamanna Jenatsch CAS in bullet points
Situated up in the valley of Bever
2652 m a.s.l.
73 Plätze
first hut constructed in 1908
rebuilt in 1993
Sektion Bernina, hut manager Roli Bühler
opening times:
New Year's Eve
Ski touring season: mid February - April
Summer season: end of June - mid October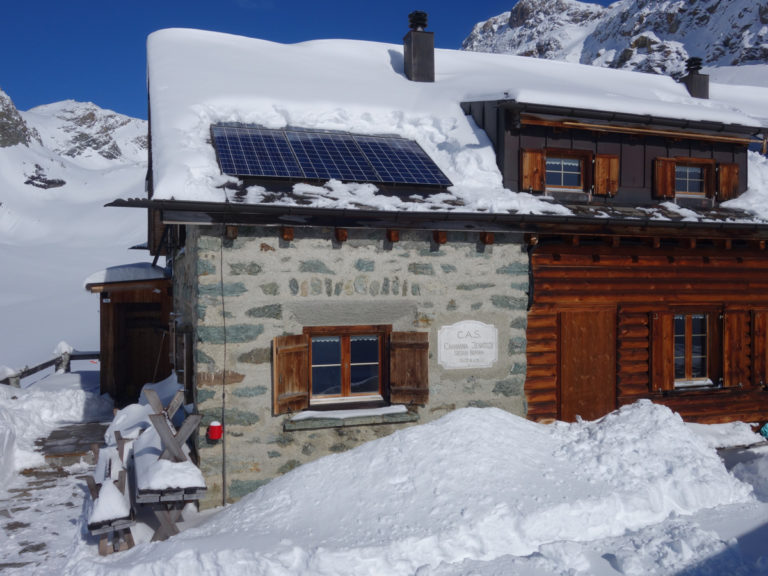 Electricity
Hydro and solar power! A small Pelton turbine and photovoltaic panels on the roof provide us with energy, stored in batteries in the cellar.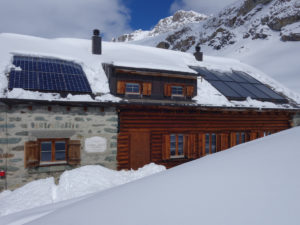 Gas and wood
In summer we cook mainly with gas, during winter we use additionally the wood stove for heating and cooking.
Water
During summer we have running water from a water source, in winter we pump the water from the nearby river. We have water tanks in the hut to store the water.

Warm water
Beside the Photovoltaic panels, we also have solar panels on the roof to heat up the boiler. Without sunshine, the boiler can also be heating by the wood stove in the kitchen.
Waste water
The waste water from the hut is collected and cleaned in a septic tank.
Supply
The hut supply is executed by the big yellow bird of HeliBernina.