Reservation
A reservation for the overnight stay is mandatory. Only in this way, we know the amount of meals we need to prepare. We ask you to do the booking preferably with our Please use the online tool for reservations or otherwise by phone. For information you can contact us always by phone.
Cancellations: at the latest 2 days before (6 p.m.), please note the Terms and conditions .
On arrival
We like to welcome you personally at the hut and will show you your sleeping place.
Paying
Please pay for your stay the evening before departure. You can pay cash or with EC/ Maestro/VPay (see Prices).
Shoe room
We have house shoes in different sizes. Please enter the hut only in house shoes. Walking poles and ice axes also stay in the shoe room.
Ski room
The ski room is accessible from outside and there is enough place for skis, boards, snow shoes and poles. In summer we use the room as additional storage room.
Dry room
We have a large dry room downstairs where you can hang your clothes, furs, inner shoes, etc.
Dining room and terrace
We have two cozy dining/common rooms and a sunny terrace. There is plenty of readings and board games.
Sanitary facilities
The toilets and washing possibilities are downstairs in the hut. We provide neither shower nor towels.
Winter room
During the unwarded time, the winter room is open. There is a wood stove and wood, pans, dishes, cutlery. There is a stock of wood behind the hut and a splitting bench is in the ski room. There is place for 14 people in the winter room. For sleeping, one dorm is open.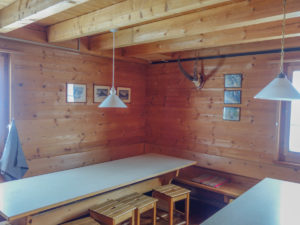 Eating
During daytime we serve you small or larger delicacies from the kitchen. Swiss rösti (hash brown), "Paangercher" from Luxembourg and different cakes: you will surely find your favorite!
Dinner is served at 6:30 pm for everyone. There is soup, a main dish and dessert. Vegetarian meals and diets for people with allergies / intolerance are prepared on request (please inform us with the reservation).
For ecological reasons and due to an increased demand, from time to time we cook vegetarian meals for all. However, nobody will be disappointed with our Pizzocheri or traditional Swiss mountain specialties.
Hiking tea and lunch package
In the half board one liter of hiking tea is included. If you want a lunch package for the day, please inform us until the previous evening.
Consumation
We are happy to serve you hot and cold meals and treats form the kitchen. There is no obligation for consumation. However, it is not possible to cook your own meals in the hut during the wardened time.
Breakfast
Breakfast time varies according to the season and the tour plans of our guests. In the evening we will discuss this briefly with you. Thanks to home-baked bread and birchermüesli, everyone can start into the day well strengthened.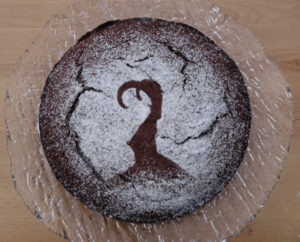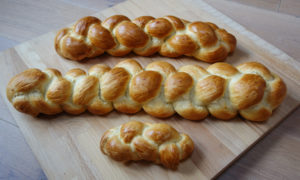 Sleeping
All beds have duvets and additional woolen blankets. Since we can not wash the sheets regularly, the use of a silk inliner is mandatory in the dorms. These can also be rented or bought in the hut. In the double room an inliner is recommended, since it is not always possible to wash the bed linen after each guest . For more information about the dorms and double rooms see overnight stay.
Lights out
Lights out is at 10 pm. Only with enough sleep everyone is fit again the next morning for a fantastic day in the mountains.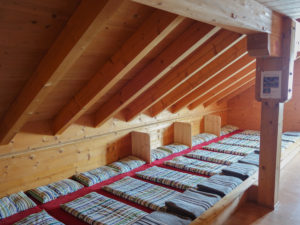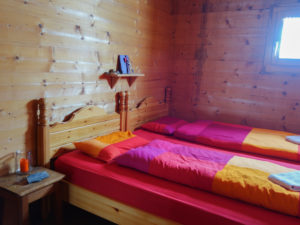 Sauna
Eine Alternative zur Dusche vielleicht…? Unsere Bio Sauna garantiert ein spezielles Erlebnis. Im Sommer mit Wasser zur Abkühlung, im Winter mit "Schneebad". Ab 2 Personen und für 25 CHF pro Person heizen wir für Euch ein. Grosse Saunatücher gibts von uns dazu.
Electricity
We have a charging station for a limited number of mobile phones in the dining room. There are no sockets in the rooms. 
Phone / WLAN
There is no mobile phone reception around the hut and no public WLAN. This gives you time to enjoy the nature, for conversations, book reading and board games. We have internet for reservations, the weather forecast and avalanche bulletin.